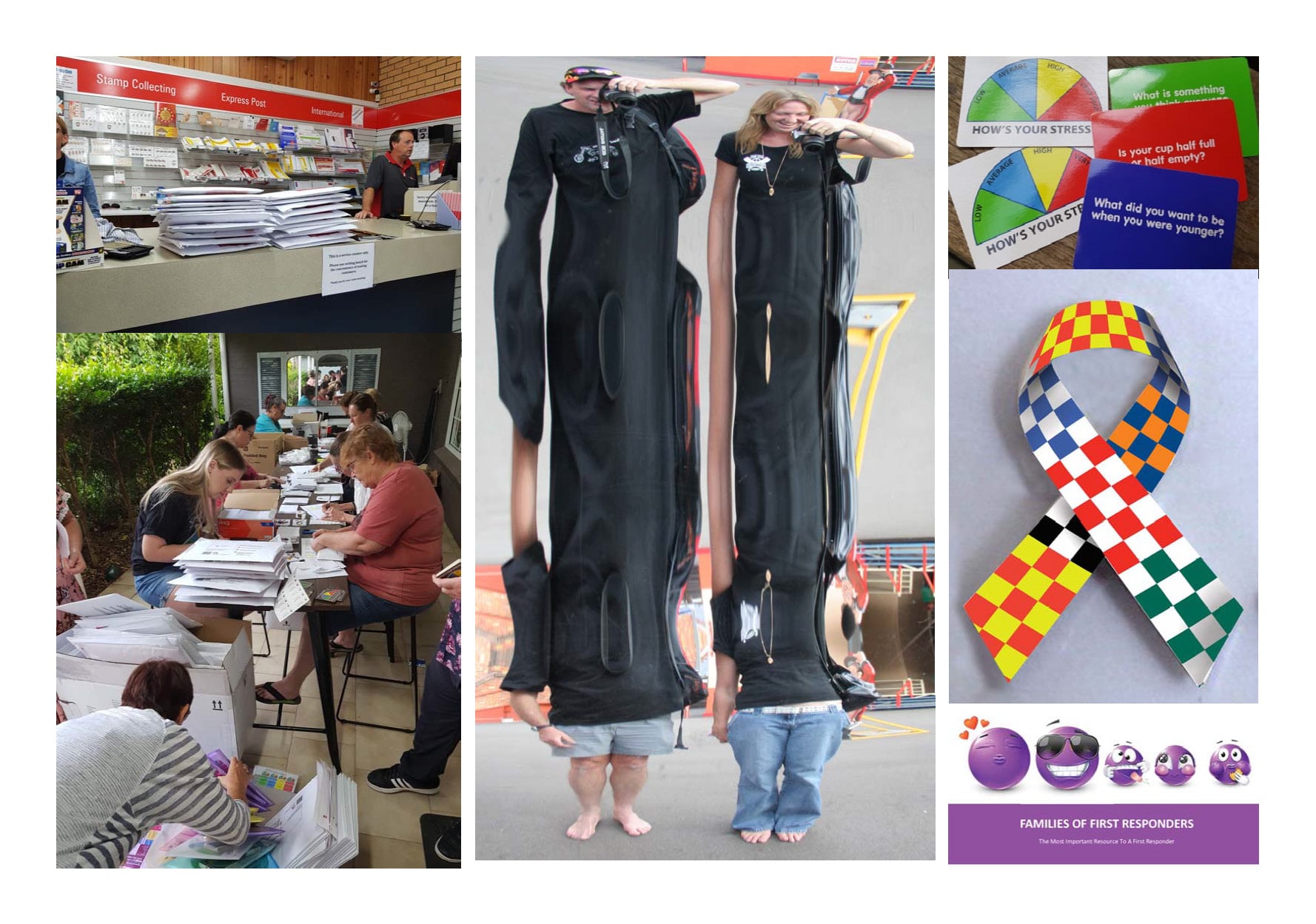 Keep The Conversations Going
We're just a little stretched right now with our usual BTS work on the increase, requests for free Stress packs and of course the amazing response to the ribbon design!
The majority of our 30,000 plus followers are first responders or their family members. Many members of the public are now also joining to help in any way they can to support emergency services mental health. It's really refreshing to see evidence of what we've always maintained – there are locals in EVERY community who want to help our Triple 0 emergency services responders in any way they can.
Our Emergency Services In Shock
The last month has been absolutely devastating. Our first responder community is quite simply – in shock. That means many are in auto-response mode, doing their jobs the best way they can with no time to process emotions. The public response of support in all sorts of ways across the globe has been absolutely incredible. Within our emergency services community the "brotHERhood"**  is more evident than we've experienced since starting BTS 6 years ago. ALL services are acknowledging and supporting each other. Most of the ribbon stickers are going to first responders, to acknowledge teamwork with other services.
Keep The Conversations Going
With the help of volunteers we collated 200 Stress Less Conversation packs this time last week. We're re-stocking and calling on volunteers again this coming week as we've run out. And we'll keep collating the packs and send them put for free to emergency services teams because we NEED TO KEEP THE CONVERSATIONS ABOUT MENTAL HEALTH going. This may sound strange because people thank us for the pack, but we are SO grateful to those requesting the packs – that means they understand the value of open and honest conversations and the value of creating an atmosphere at station/unit level where it's OKAY to say "I'm not okay". PLEASE keep the requests coming – spread the word- we've now got a team of volunteers here on the Central Coast happy to help us put these packs together.
When Things Go Quiet, Please Reach Out
In the next few months, as fire danger reduces and everyone gets back to some sort of "usual" routine, the media and public's attention will drift to other topics of interest. Crisis support services and resources will reduce if not disappear. Public donations and funding which seem abundant right now will no longer be available. All this is perfectly normal and predictable. Life goes on. And yet, from a mental health perspective this is the most critical time for mental health support services. When there's time to reflect, time for the "mask" to be taken off, time to re-connect with family… time to process grief, anger, guilt, fear and many more mixed emotions.
Families of First Responders
Emergency services personnel have unique stress factors to contend with. Any large scale emergency adds a myriad of other factors to the stress bucket. Family members are expected to understand the impact of this, and are often the "first responders" to the first responders when it comes to mental health, yet are rarely educated or supported. We have short, down to earth  booklets for family members which may encourage some conversations at home. We've included our own story of Ross's PTSD and the impact on our lives. The booklets are due for revision which we haven't had time to finalise, but if you'd like a copy of the current print, please email us at info@behindtheseen.com.au stating which service your family member belongs to (just general – firefighter, paramedic, police, SES, VRA etc) and we'll post out to you.
Mental Health Support Services
There are many mental health support services out there who will understand the impact of emergency services work. Almost all emergency service organisations have a Wellbeing Section/Branch – and while we know not everyone wants to approach organisational supports, we strongly encourage you to find out what is available. Most offer free and confidential Employee Assistance programs, peer support and chaplaincy services.
If you're really not comfortable approaching organisational supports, please look within your local community for other alternatives. A referral from your doctor can get you subsidised sessions with a mental health social worker or psychologist. There are several online chat supports and 24 hour phone services you can contact anonymously. Talk to a colleague or a family member. Remember that the sooner you reach out for help, the higher the chance of an early recovery!
Stay Safe!!
Cheers
Ronnie & Rossco
** We did not want to give up on the historical word brotherhood which indicates work family in emergency services – but needed to acknowledge women in emergency services- so we always make sure the HER is in capitals.
There are moves underway for mental health support services to be provided by the federal government however we have not been able to find out specific details. In the meantime, here are some contacts external to organisational supports:
Lifeline 131114  or online  www.lifeline.org.au crisis chat 7pm to 4am  7 days a week
Beyondblue 1300 22 4636 or online www.beyondblue.org.au  webchat 3pm to 12pm
Suicide Callback Service  1300 659 467
Mental Health Line – 1800 011 511
Blue Hope for police officers and families 1300 00 BLUE (2583) 
You may also find this resource useful if you are in NSW: https://www.emergency.nsw.gov.au/Documents/Bushfire%20Recovery%20Assistance%20Information.pdf