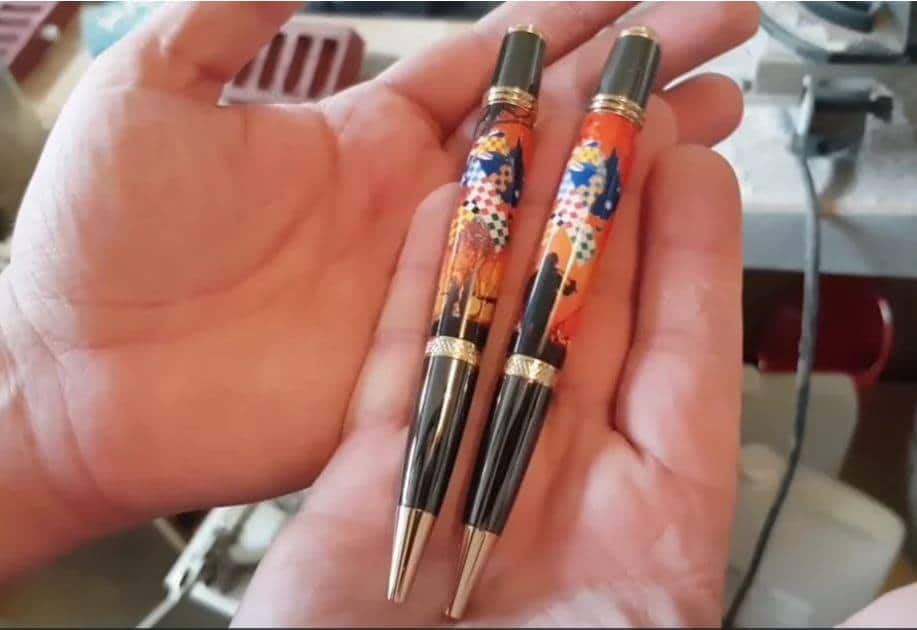 An Unusual Turning Point For Relaxation
In recent times we've had the pleasure of connecting with people who have some unusual but – for them – effective ways of dealing with high stress. We'll share some of these stories here because "stress management" involves many strategies – one of which is finding a way to take "time out" from usual emergency services work. Sometimes finding that opportunity for interesting and affordable "time out" can be challenging.
We found Rob Gajic from "Scribes Realm" in Yass, NSW through a friend in the RFS who explained that pen turning had given him a way to focus on something other than his life challenges.
Rob also runs an online group for "pen turners" called the Australian Pen Turners Group.  To our surprise, many use this hobby as a way to unwind, and to connect socially with like-minded others. The conversations on this page show a supportive camaraderie and sense of humour bound to brighten the day of any novice or expert "pen turner".
Interesting regular activities like a "pen swap" where you're allocated someone to "swap a pen" with add to increased creativity, the fun of getting a "mystery gift" in the mail and lots of conversations to follow about the intricacies of pen turning techniques. We learnt that creating a unique, high quality pen takes more time, skill and creativity than people might think. For that reason we asked Rob if he could film parts of the process – a process which obviously involves a fair bit of focus and patience, but is rewarded with a beautiful end product which will withstand the test of time! If you're looking for a new hobby, this one is definitely among the "interesting time- out" options. Plus – as you can see from the video – can be done from the comfort of your home garage or shed!
Did we mention these pen turners are also very supportive and generous?  Thank you to Rob and his Australian Pen Turning Group for a very generous $600 donation. Also thank you for a (surprise) $300 donation which appeared in our GiveNow donations portal from the Turn N Write Pens facebook page which is run by pen turner Neil Parkinson.
We look forward to a continued supportive relationship with our new friends in Pen-Turning world- please check out the video- it might just spark interest in a new hobby for yourself or a family member!
If on the other hand this kind of "time out" is not up your alley, but you'd love one of the pens, check out our shop page where 2 designs are available utilising Rossco's photos and the ribbon design.
Do you have an unusual hobby which works to reduce your stress levels? Share it with us!